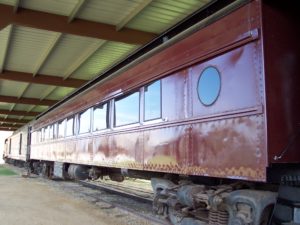 The Pennsylvania #1660. Is from the p70 series and was built in 1914 as a passenger car by the Standard Steel Car Company. It was commissioned for the Pennsylvania Railroad and operated in the New York area. In 1949 the #1660 was completely remodeled and updated. It continued to be used as a passenger car until its retirement in the early 1960s.
The #1660 represents the first leg of an immigrant's journey west. If you were an immigrant at the turn of the 19th century entering the United States through Ellis Island, this was the type of car that would have started you on your journey west.
On April 7, 2004, the #1660 left Buffalo, New York by rail toward its new home to be a part of the History Train. It left at 12 noon and arrived in Stevinson California, some 30 days later. Because of its age it had to be transported on what is called a "Hospital Train". The railroad periodically puts together "Hospital Trains" to haul overweight, hazardous, and sensitive cargo. These trains are not allowed to go over 40 miles per hour.