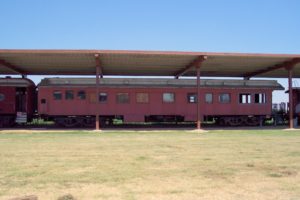 The third car on the History Train is car #21. Built by the Barney and Smith Company in 1890 for the Santa Fe Railroad, the #21 started out as a dining car. Fred Harvey, the London born restaurant mogul, was a major player in the passenger train industry. During his work as a freight agent with Chicago, Burlington & Quincy Railroad, he noticed the deplorable lack of decent meals and lodging for railroad travelers. In 1876 he persuaded the manager of the new Atchison, Topeka & Sante Fe Railroad that he could provide quality food in pleasant restaurants inside railroad depots. Its immediate success led to other Harvey House Restaurants and later Harvey House Hotels along the entire Santa Fe route. Eventually dining cars were added to the trains and the #21 was built and put into service.
Mr. Harvey insisted on "Maintenance of Standards regardless of cost". This meant that the food was first rate, served promptly, in fashionable surrounding, and at a reasonable cost. Young women were recruited to become "Harvey Girls": efficient poised waitresses. They lived in dormitories above the restaurants and were carefully supervised by a "house mother" to insure propriety. The nearest Harvey House was located in nearby Merced, just across the street from the current Amtrak station.
On July 9th, 1905, a huge crowd watched as a special Santa Fe Train Called the "Death Valley Scotty" left Lost Angeles for Chicago in an effort to break the existing world record of just under 53 hours. The train was composed of an engine, baggage car, Pullman sleeper and a Fred Harvey dining car, which was our car 21. During the trip, speeds of 106 miles per hour were recorded – faster than any train had ever run before. The engine and crew were switched frequently and they made the trip in 44 hours and 54 minutes – a new world record!
In 1910 car 21 was converted into a business car. On February 20, 1947 car 21 made history again by being the first train car in the United States to transmit audio communications by radio. They transmitted not only to other train depots but to aircraft flying above.
From 1947-1957 it was used primarily for transporting officials, and entertaining prominent farmers of the area. Good hospitality often resulted in increased agricultural shopping business. It was then sold to the Stockton
Terminal and Eastern Railroad, which used it as their stationary headquarters. The Double T then relocated car 21 from the S.T. & E. Railroad where it had sat since 1957, to Stevinson for the History Train.