The Double T Agriculture Museum has been built as a tribute to all the farm families of the past that have fed our great country. Our exhibits reflect the life and times of family farmers and industry from the 1800s to the 1950s. From horse-drawn vehicles and carriages to our steam locomotive, the collection is host to many vintage treasures.
We are open by appointment.
Here's a sneak peek at some of our exhibits.
1888 Steam Locomotive
Called the American Standard, #737 has a unique history. It is in fact known as the oldest Union Pacific steam locomotive left in existence. [read more]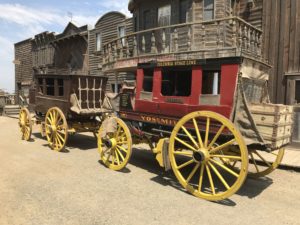 The Yosemite Stages Coaches
In 1906 five stagecoaches were held up at gunpoint and made history for the most stage robberies in Yosemite. The Double T is home to two of those coaches. 
Car 21
The Business Car has a famous past...It was part of the "Death Valley Scotty" train in 1905. [read more]
[Best_Wordpress_Gallery id="4" gal_title="Carriage Collection"]
Save